After I am inspired to write a song, the rest of the process is magic. No not really, but the process can be. Telling a story is powerful. It transports the listener into the song. It touches heart strings that can only happen when words are attached to melody and painted onto a chord progression. To say I love this process would be an understatement. A storyteller has to tell stories and a leader has to lead.

What is the point of writing the songs unless they can be heard? Sometimes by many, often by one.

Powered by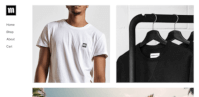 Create your own unique website with customizable templates.